In October of this year Resgrid graduated form the Microsoft BizSpark program after 3 years. In those 3 years I've had the chance to experience a number of things the program offered and want to give a retrospective on the program as a whole.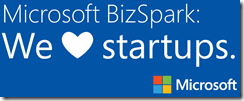 For the uninitiated the BizSpark program is a way startups can leverage Microsoft technologies or services at zero (or low cost) for 3 years. There program also features outreach support, partners with Incubators and Accelerators and much more.
It's a WIN-WIN for Microsoft and for Startups. The startup gets access to Microsoft tech, products and services for free or at reasonable rates and Microsoft has a chance to enable a long term relationship.
The Good
The good parts of the BizSpark program are the access to Microsoft products and services. With BizSpark you get an MSDN Ultimate license, which gives you licenses to a large number of products. Plus you get $150/mo Azure credit, perfect for testing and development.
Microsoft helps your startups visibility as well. They have a Featured Startup section that is shown to a broad audience. There were other options put forward in front of us, some mention in blog articles and a podcast (although that never materialized).
The Bad
If your startup is hardware dependent (i.e. Surface devices) there is limited help from Microsoft in that area, see the section below. Support and/or offers for your company could be based on the current marketing priorities for Microsoft. For example when Resgrid was going through the BizSpark program the priority was Open Source, if your software or service was built on no open source during that time frame, no additional support or offers for you.
The Ugly
I only had a point of contact with Microsoft for about a week and he was based out of the East Coast. I live about a 45 minute drive from MSLI's offices, yet there was no one in my area apparently. I'm also unclear if he was an MVP, Evangelist, Advisor or what. Past that I had no contact with Microsoft and received no help in sourcing hardware (trying to rent or buy Surface devices for development of our software in Police, Fire, EMS vehicles).
Also if your not in a major metro area or one of the coasts you can almost forget about BizSpark Plus. Incubators I looked at would not accept distant startups and some of them didn't exist or their online presence didn't exist. This is a shame, as there are entrepreneurs and startups all over the country and the world, but if your not lucky to live in the Bay Area, Seattle, NYC, well no plus for you.
Conclusion
Microsoft's BizSpark is a great program and I recommend it to everyone I talk to thinking about starting up. But to get the full benefit you're startup needs to be located in certain areas and be aligned with Microsoft's current marking priorities. It also doesn't hurt if your startup is targeting other businesses (B2B software) as they will receive a fair amount of the BizSpark program communications that you may be a part of.
It would be nice for Microsoft to have more Reps or Advisors around to help guide startups through the program and make the most of it. I would also hope that in the future Microsoft finds a way to open up BizSpark Plus to more areas either through expanding it's partners or in this age using the Internet.
Resgrid is a SaaS product utilizing Microsoft Azure, providing logistics, management and communication tools to first responder organizations like volunteer fire departments, career fire departments, EMS, search and rescue, CERT, public safety, disaster relief organizations, etc. It was founded in late 2012 by myself and Jason Jarrett (staxmanade).