Backups are one of those things that you never think about until you need them. Recently the data drive in my workstation started acting very strange, locking up the PC while trying to perform operations, controller errors, etc. The hard drive itself was a Seagate Barracuda 3TB STATA3 drive, only around 2 1/2 years old, it was way to early for this drive to fail.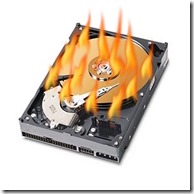 But I have an online backup provider, so I'm good to go right? That's what I thought, but apparently I was very, very wrong. I've been using Carbonite since around 2010. Back then they backed up everything, I didn't have to worry.
But over the years they've become more and more restrictive with what they back up. I've had my data drive selected for backup, but apparently Carbonite selected, automatically, what files and folders it would back up.
Just as a note, I had about 1.25TB of data in my Documents folder to backup and my total data drive utilization was 2.5TB, what did Carbonite backup, 45GB of my Music.
I've been paying $60 bucks a year to basically back up the least critical parts of my system for 5 years. It's been about 5 years since I lost data due to a hard drive crash, and it's not going to happen again. Carbonite seems perfectly fine for standard home users (non IT\Developers), but it's painfully obvious that it doesn't work for me.
I've been trying to repair the drive, hopefully I can get some of my data back. If your interesting in seeing how you can repair a hard drive take a look at the video below.
So now that I've been burned again, I've updated my requirements for my backup plans.
Local backups are required and I've selected a WD My Cloud EX4 with WD Red drives as my local/NAS storage solution. But due to some previous failures of WD2GO Cloud Service I won't be using that as my cloud backup provider.
More control and flexibility over what's backed up. Carbonite automatic is great for standard Windows installs (i.e. MyDocuments in the normal location, etc) but not for an IT Pro\Developer setup.
Unlimited or reasonable cost to store a few TB's worth of data.
Based on the selection criteria I've selected CrashPlan as my new Cloud Backup provider. First they are very explicit about what's not being backed up, which Crabonite is not. Secondly they support local and cloud backups and finally they have unlimited storage for $60 a year, same price as Carbonite, way more features.
Hopefully I won't have this issue again, needless to say I've bought my last Seagate drive for a while. I've had issues with Seagate drives in the past and when I was building my new computer they had the only 3TB drive available. But it's just not worth it, next time I'll just RAID 0 some WD drives like I should have in the first place.
Resgrid is a SaaS product utilizing Microsoft Azure, providing logistics, management and communication tools to first responder organizations like volunteer fire departments, career fire departments, EMS, search and rescue, CERT, public safety, disaster relief organizations, etc. It was founded in late 2012 by myself and Jason Jarrett (staxmanade).